Rockin' Roasted Root Veggies
Dearest fall enthusiast, 
Fall is in the air–and I'm not just talking about the outdoor air. If you're anything like me, you probably spend the majority of this season trying to figure out how to get fall in all of the airs. The car air, the bathroom air, the office air, the kitchen air…etc.
Lucky for you, I've done the heavy lifting for you (literally & figuratively, because we all know pumpkins & bags of raked leaves are both deceivingly heavy…). Here's what ya do: cinnamon car air fresheners, pumpkin bathroom spray, harvest apple office candle melts, and THESE rockin' roasted root veggies in the oven.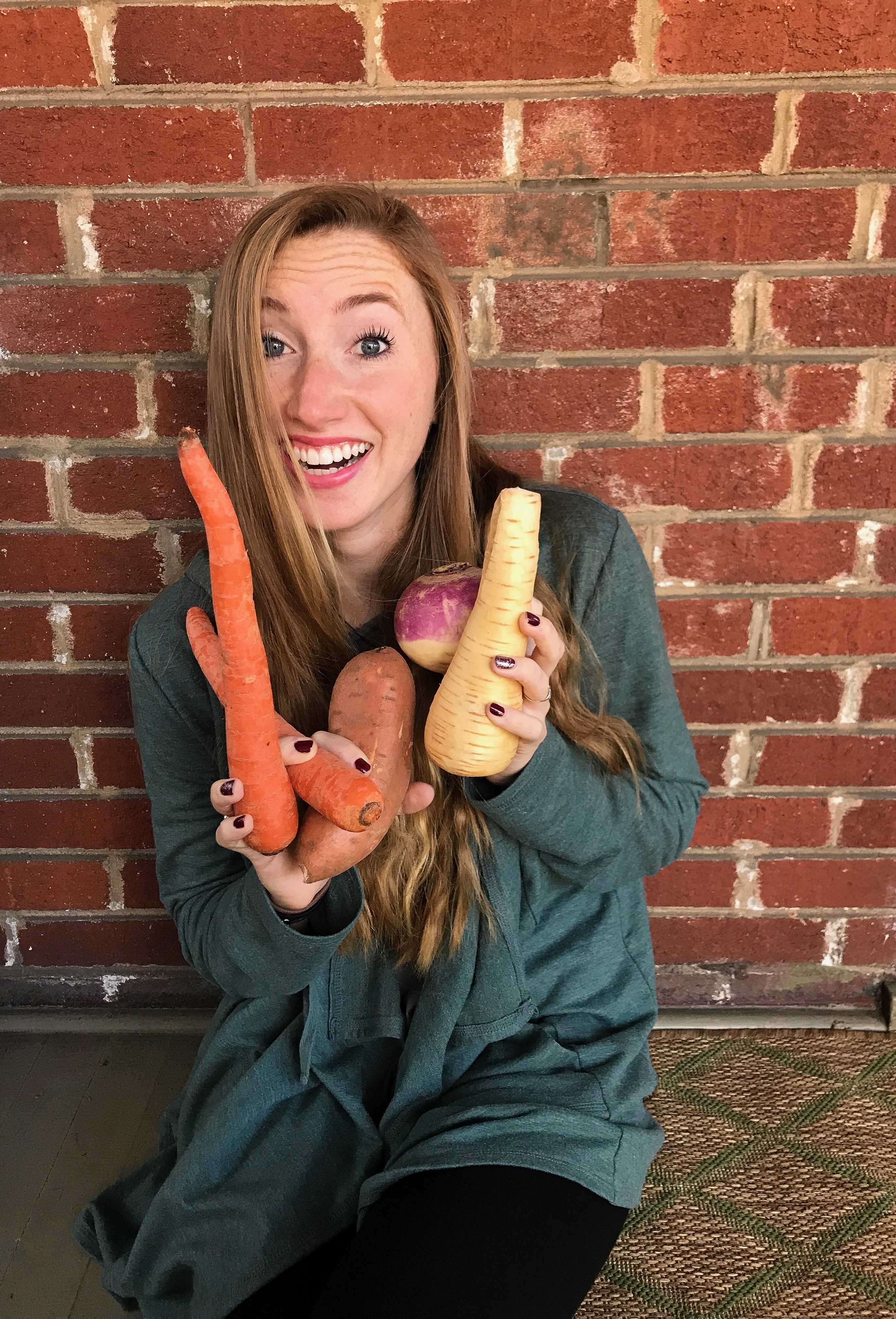 You'll have to visit your local catch-all store for the smell-good products, but for the root veggies? All you'll need is a ride to the grocery store, a snazzy vegetable peeler, and the rest of these instructions from Yours Chewly. 
But before we get to those instructions, let's check out the nutritional highlight of this recipe:
Root Veggies
Root vegetables are a category of veggies that get their name due to the fact that they're, well, the roots of the plants. The edible portions of root veggies grow underneath the dirt (which is why all require either a good wash or that snazzy peeler I mentioned earlier).
Root veggies such as parsnips and potatoes are rich in complex carbohydrates. Their carbohydrate structures are longer and, as the name indicates, more "complex" than those of simple carbohydrates (think: candy, most dessert treats, white bread, etc).
These carbohydrate-containing foods also contain more fiber than simple carbohydrate foods. Therefore, your body breaks these babies down more slowly, leading to higher levels of satiety and more moderate fluctuations in blood sugar.
Orange root veggies like sweet potatoes and carrots are great sources of beta-carotene, which your body uses to help manufacture the antioxidant vitamin A that is essential for healthy eyes, skin, and bones.
In addition to their rich vitamin and mineral content, (a list that extends much longer than what I chose to include here) the biologically active compounds found in plant foods (fancy word: phytochemicals) also work to fight a host of chronic diseases such as cardiovascular disease and cancer.
Convinced yet? If not just for their stellar nutritive properties, I hope you'll give them a try just for the smells and tastes! A true fall treat.
And don't you forget, I'm rooting for you. Bone apple teeth!
Yours Chewly,

Begin by preheating oven to 425F.

Wash the sweet potatoes, pat dry & set aside. Peel all other vegetables.

Chop all vegetables into bite-sized pieces. Shapes will vary, however, try to make each piece as similar in size and thickness as possible to ensure even cooking.

Add veggies to a large mixing bowl and drizzle generously with olive oil. Use a large spoon or spatula to toss contents of bowl and evenly coat each veggie with oil. Each piece should look slightly shiny.

Add a pinch of salt and black pepper. For added flavor, use an additional, salt-free dried herb blend. Blends containing rosemary work especially well. Fresh herbs may also be used, if available. Toss to incorporate seasonings.

Spread veggies out evenly over two large baking sheets. Do not overcrowd!

Place in oven and roast for 25-30 minutes, or until fork tender.

Remove from oven & let cool. If desired, serve with a few crumbles of fresh goat cheese for added flavor!
---