Your monthly support system that provides all the tools, skills, and guidance needed to create long-lasting changes in your health and relationships with food + body. You ready?
If you're ready to make peace with food and your body so that you never have to go on another diet, watch this video!
What makes this 1:1 intuitive eating coaching experience different?
If you're reading this, odds are you've caught wind of the fact that diets don't work. At this point, you've probably tried quite a few of them, and instead of feeling healthy, in control around food, and confident in your own skin, you feel frustrated, run-down, and more stressed about food and your body than ever before. Sound familiar? 
If so, it's no surprise that you've stumbled into Intuitive Eating. It's also no surprise that even though you're likely relieved to discover this non-diet approach to health exists, you're equally confused as to how to navigate this journey. After all, it's so different from everything you've ever done before! 
Let's be honest: Intuitive Eating has gained a lot of attention recently and there's an overload of information out there about it. Much of that information can be helpful and maybe you've even used some of it to help you along your journey so far! 
But that information alone lacks the ability to help you connect the knowing to the doing. It may offer ideas, but it fails to offer guidance, reassurance, and accountability that's individualized to your life and needs. 
That's where this unique, highly individualized coaching experience comes in. This isn't your average nutrition coaching program, it's an opportunity to work with me one-on-one to break free from dieting once and for all. Let me be the last coach you'll ever need!
Here at Yours Chewly Nutrition, we're a community.
Check out what some of our community members have to say about their 1:1 coaching experience…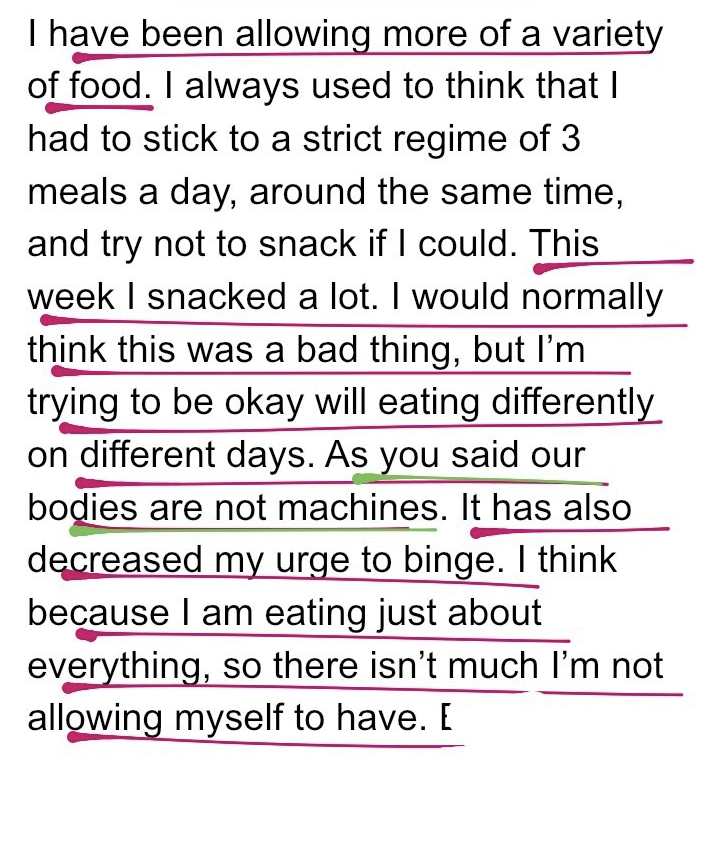 A personalized roadmap. We will dive deep into your goals and your past dieting history. We'll identify what exactly you need to unlearn from all of those past dieting efforts so that you can start relearning how to tune into your body's signals around hunger, fullness, and satisfaction. You'll come out of every coaching call with specific goals to help you connect the principles of Intuitive Eating to your everyday life.
Behavior and mindset shifts. We'll determine ways for you to step away from dieting tools (i.e. the scale, calorie, macro, and point trackers, transformation photos, etc). We'll also identify the voice of your inner food + body police so that you have more mental space to discover and nurture the voice of your inner intuitive eater.
The Client Kickstarter Module Series: Immediately upon claiming your spot in the program, you'll gain access to our Client Kickstarter Modules. In this six video series, I teach you the basics of what you'll need to be successful on this non-diet journey. You'll start improving your relationship with food and self immediately…before we even dive into our first 1:1 call!
Accountability and support. You'll receive individualized support from me on our 1:1 video chat coaching calls. In between these calls, you will receive daily support from me via our HIPAA-compliant app, Healthie. On this app, you can ask me questions and post reflections on your daily food experiences. In addition to 1:1 accountability, you'll also gain community support from our private Facebook community and our weekly client exclusive newsletter.
A qualified coach. Unlike many coaches and "nutrition experts" out there, I am a Registered Dietitian and Certified Intuitive Eating Counselor. If you value working with a trained professional who values your health and success, this program is for you!
What this program is NOT about:
Meal plans, macro tracking, point counting, or calorie counting.
The active pursuit of weight loss. Intuitive eating is a weight neutral process—some individuals may stay the same weight, some may gain, and some may lose weight. We simply won't be focusing on weight. Instead, we'll focus on your behaviors!
A one size fits all approach.
A 30 day "quick fix." This program is about creating lasting change…and that takes time!
Will you be a good fit for this program?
This program is not for everyone! I am protective of my time and I want to be respectful of yours, too. For this reason, I only offer coaching spots to individuals who are serious about taking action and want to create the best possible relationship with food and themselves. You may be a good fit for this program if…
You are committed and willing to trust in this process.
You like having support and guidance from someone you trust.
You are tired of having a negative, stressful relationship with food + your body and you are ready to change that.
You are willing to be patient and show yourself compassion along the way.
You are willing to learn and try new things.
You are in a position to make an investment in your health.
Please get started by filling out this application.
*Please note that I am not able to accept insurance for 1:1 coaching at this time.
**Must be 18 years or older to apply.
Check out the videos below…
to hear some incredible stories from past coaching clients!