Your monthly support system that provides all the tools, skills, and guidance needed to create long-lasting changes in your health and relationships with food + body. You ready?
If you're ready to make peace with food and your body so that you never have to go on another diet, watch this video!
What makes 1:1 coaching with Yours Chewly different?
If you're reading this, odds are you're ready to get out of the dieting cycle. This is a cycle that promises increased confidence and positive health outcomes, but is more likely to leave you feeling frustrated, run-down, and more stressed about food, health, and your body than ever before. Sound familiar? 
If so, three things. One: I'm glad you're here. Two: you're not alone. And three: it's not your fault that your past dieting endeavors haven't felt as successful as you might have hoped. The vast majority of diets encourage behaviors that will never be sustainable, enjoyable, or truly health-promoting in the long run. This is one of the many reasons I've chosen to practice as an anti-diet dietitian. 
This means that I'm here as a healthcare provider to listen to your lived experiences, hear your food concerns, and offer compassionate, individualized, and evidence-based nutrition care. I'm here to remind you that health is complex, it means something different for everyone, and it's not a moral obligation. And if focusing on your health and wellbeing is something you'd like to do, I'm here to support you in developing feel-good, sustainable behaviors–not prescribe a low calorie diet or tell you to stop eating your favorite foods.
If you're like some of my past clients, you've maybe read some books, listened to a few podcasts, and filled your social media feeds with anti-diet messages. This is an awesome start! But how is this new knowledge translating to behavior change in your daily life? How will you take that information and tailor it to your unique needs and preferences so that you can leave your old behaviors and ways of thinking behind…for good? 
That's where 1:1 coaching comes in! I'm here to help you get curious about your relationship with food + nutrition, support you in unlearning old beliefs and habits, and encourage you as we set goals to support both your physical and mental health. Keep reading for more information on coaching and I can't wait to get to know you!
Here's what some of my graduated clients have to say about their 1:1 coaching experience…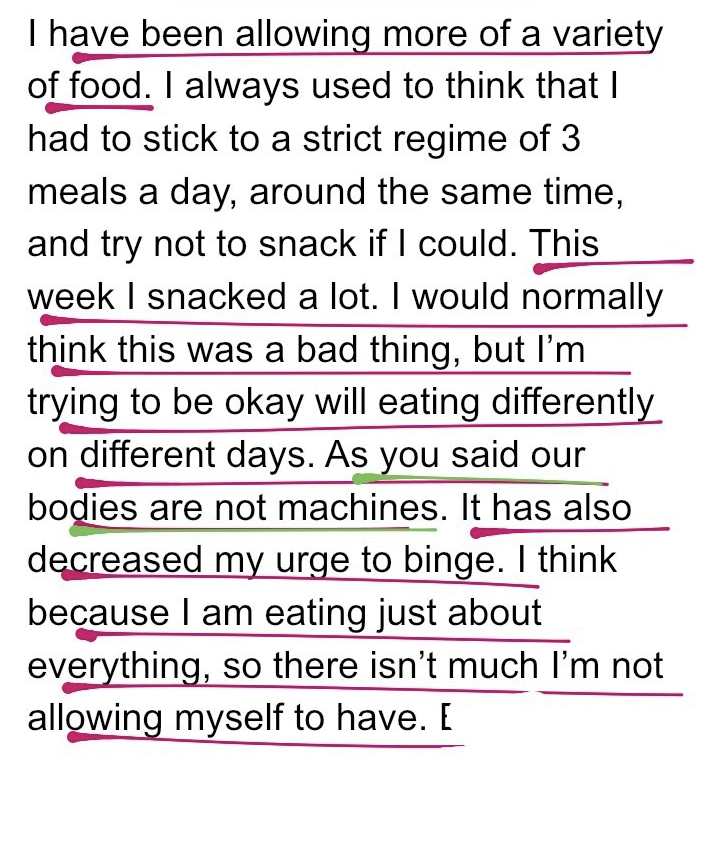 A personalized roadmap. We'll dig deep into your goals and your past dieting history. We'll identify what exactly you need to unlearn from past dieting endeavors so that you can start building a relationship with food rooted in self-care, not self-control. You'll leave every coaching call with specific, tailored-to-you goals that we'll set as a team to help you find consistency with feel-good eating habits.
Behavior and mindset shifts. We'll determine ways for you to distance yourself from dieting tools (i.e. the scale, calorie, macro, and point trackers, transformation photos, etc). We'll also identify the voice of your inner food + body police so that you have more mental space to make choices that align with how you want to feel and think about things beyond food.
The Client Kickstarter Module Series: Immediately upon claiming your spot in the program, you'll gain access to our Client Kickstarter Modules. In this six video series, I'll help you set up a firm foundation for your non-diet journey. You'll start improving your relationship with food and self immediately…before we even dive into our first 1:1 call!
Accountability and support. You'll get my undivided attention during our bi-weekly video chat coaching calls. In between these calls, you'll have unlimited messaging support via our HIPAA-compliant app, Healthie. This app is your direct line to me and allows you to ask questions and journal about eating experiences in between our sessions. 
Access to The Collective. In addition to our 1:1 sessions and messaging support, you'll also have full access to my membership group, The Yours Chewly Collective. This gives you the option to join our quarterly live group classes, cooking skills workshops, monthly support groups, and private Facebook community. 
A qualified coach. Unlike many internet "nutrition experts" out there, I am a Registered Dietitian and Certified Intuitive Eating Counselor. I also engage in professional supervision and continuing education opportunities regularly to ensure that I have the tools, knowledge, and capacity to fully support my clients. If you value working with a trained professional who will prioritize your health and success, this program is for you!
What this program is NOT about:
Meal plans, macro tracking, point counting, or calorie counting.
The active pursuit of weight loss. I'll hold space for you as you explore your thoughts about weight and relationship with your body, but please note weight loss is not a focus or guarantee of this program. Instead, we'll focus on behaviors, habits, and health changes that don't center weight loss as a measure of "success." 
A one size fits all approach.
A 30 day "quick fix." This program is about creating lasting change…and that takes time!
Will you be a good fit for this program?
This program is not for everyone! I am protective of my time and I want to be respectful of yours, too. For this reason, I only offer coaching spots to individuals who are serious about taking action and want to create the best possible relationship with food and themselves. You may be a good fit for this program if…
You are committed and willing to trust in this process.
You like having support and guidance from someone you trust.
You are tired of having a negative, stressful relationship with food + your body and you are ready to change that.
You are willing to be patient and show yourself compassion along the way.
You are willing to learn and try new things.
You are in a position to make an investment in your health.
Please get started by filling out this application.
*Please note that I am not able to accept insurance for 1:1 coaching at this time.
**Must be 18 years or older to apply.
Check out the videos below…
to hear some incredible stories from past coaching clients!