Your self-paced, one-stop-shop course to learn how to ditch the diet cycle, reconnect to your body, and begin healing your relationship with food.
Are you sick and tired of dieting and having stress around food rule your life?
Or perhaps you know that yo-yo dieting and feeling out of control around food isn't healthy or sustainable, but you don't know how to stop. Maybe you've heard that Intuitive Eating can help you create a confident and easeful relationship with food, but you're not quite sure what Intuitive Eating is or how to get started.
If you're nodding your head saying, "Yep…that's me", you're in the right place. My Intuitive Eating Discovery Course is designed to help you take your first steps away from dieting and food fear…for good.
Picture this…
You can spend holidays, birthdays, summer cookouts, weddings, and other social gatherings focused on enjoying the moment and the company of loved ones, not calories.
You eat all foods you enjoy, without guilt, in accordance with your body's cues.
You know that the number on the scale does not determine your worth as a human being, nor does it tell the full story of your health.
You're able to model healthy behaviors around food, therefore helping to put an end to disordered eating patterns in generations to come.
You have the physical and mental energy to think about things beyond food and your body.
In short, you're living your best life, spending time doing the things that matter most to you and bring you joy. And let's be honest, none of this is going to happen if you're trapped in a negative relationship with food.
I'm Claire Chewning, a non-diet Registered Dietitian and Certified Intuitive Eating Counselor. I'd love to help you make all of those thoughts a reality.
This course is the guide I wish I would've had years ago when I was trying to break out of my own rule-filled relationship with food, so I couldn't be more excited that you're here to learn more.
This course IS for you if you…
Are new to Intuitive Eating! Maybe you've heard of it…but you're not quite sure what it is or if it's the right approach for you
Want to break free from the cycle of dieting but feel too overwhelmed to even know where to begin
Want to discover why all of your past dieting efforts have failed and why it's not your fault that they've failed
Know you need to break up with dieting tools like the scale, MyFitnessPal, and "point" trackers, but don't know how
Are ready to start feeling at ease rather than out of control around food
Want to start recognizing + honoring your body's cues around hunger, fullness, and satisfaction so that eating experiences leave you feeling nourished and energized, not guilty and uncomfortable
This course is not for you if you're…
Looking for a meal plan, fad diet, and/or weight loss focused program
Looking for a "quick fix" solution
Not ready to keep an open mind to learn about an approach to eating that doesn't involve food tracking, measuring, guilt, or shame
Actively struggling with an eating disorder (see FAQ below for more on this)
Ready to start discovering Intuitive Eating?
You'll receive my proven and tested roadmap to begin your journey of quitting diets for good…
● 8 guided coaching lessons, each filled with real-life tools that can be applied to your life today. Value = $800
● Downloadable PDF worksheets following each coaching module that contain key takeaways, journal prompts, and activities to help you set realistic goals and take action on what you learn in each module. Value = $100
●Lifelong access to a private Facebook community just for course participants where you can ask questions, tune into weekly live Q&A sessions, and receive group support from myself + others navigating this journey. Value = $1,000
● BONUS: 20-minute mindful eating lesson that will teach you how to slow down, connect to your body, and rediscover pleasure in eating. Value = $50
●BONUS: 45-minute body image guest training with a Licensed Professional Counselor and body image coach, Brianna Campos. Value = $150
● BONUS: Motivational phone wallpapers to remind you of your food peace journey each time you open your device. Value = $25
● BONUS: Additional Resources Guide to help you learn even more about IE from the many other incredible practitioners and activists out there! Value = $25
Total Course Value = $2,150 
✅Your Investment = $397
What are people saying about the course?
Here's what we'll be covering in each module
Welcome letter from Yours Chewly

Intro audio lesson: what to expect from the course, how to get the most value out of your online course experience, guided breathing exercise to help you center and self-connect before getting started
Coaching lesson: We'll deep dive into the diet cycle—why diets fail, why their failure is not your fault, & how you can begin to find a more sustainable approach to eating so that you never have to diet again

Written activity: Making Amends with Your Past Dieting Efforts
Coaching lesson: We'll talk about what Intuitive Eating is, who it's for, and how it's far different from the diets you've tried in the past. You'll also discover how weight fits into the Intuitive Eating approach.

Written activity: The Diet Mentality Detox
Coaching lesson: Time to set realistic timelines and expectations for your journey so that you can navigate future frustrations, quiet the voice of your inner critic, and avoid temptations to return to dieting. This step is essential for creating changes that will be long-term and sustainable.

Written activity: My IE Why
Coaching lesson: We'll identify what dieting tools you need to break up with (i.e. the scale, MyFitnessPal, point trackers, etc) in order to reconnect to your body & its cues. Once we've created awareness, we'll also talk actionable steps to help you cut ties with these devices so that numbers will consume less of your mental energy.

Written activity: Your Break Up Action Plan
Coaching lesson: I'll share with you the many ways in which you can start identifying and reconnecting with your body's hunger, fullness, and satisfaction cues. I'll also equip you with multiple tools to help you feel pleasant and satisfied before, during, and after your eating experiences, not anxious and out of control.

Written Activity: Honor My Hunger, Feel My Fullness, Trust My Body
Coaching lesson: Let's start removing guilt and shame from your eating experiences. After all, guilt is not a food group! Tools in this lesson will help you silence the voice of your inner food police so that you can feel free and confident in your relationship with food, not guilty and fearful.

Written Activity: Finding Freedom…One Bite at a Time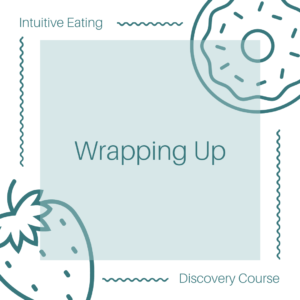 Coaching lesson: Together, we'll answer the questions, "Now that I've graduated from this course, what's next in my IE journey?" and, "What steps can I take to ensure that I won't fall back into the diet cycle?"

Graduation Certificate to print out and display as a sign of the hard work that you've done to reclaim your life, health, and happiness from the hands of diet culture!
I know you might be thinking…

The course is too big of an investment. I can't afford it!
I understand that this course is a big investment. Because of this, there's a flexible payment plan option available. If you're not able to make the investment in full, you can opt to spread out the investment over a four-month period of time, with four payments of $125. A $125 investment over the course of a month comes down to $4.16/day. That's equivalent to less than one grande drink at Starbucks.
I also have an equity pricing model available for this course. If you'd like to see if this pricing model is the right fit for you, please email me at claire@clairechewning.com and include "Equity Pricing Model" in the subject line of your email.
I don't have the time to dedicate to a course right now. I'm so busy!
I get it! You're busy and have a lot on your plate. This is a fact I tried to keep in mind while building this course.
Completing one module takes, on average, about an hour (this includes listening to a coaching lesson and taking the time to reflect + work through the written activity). If you choose to set the goal of completing one module/week, that breaks down to about 9 minutes/day.
I don't know about you, but I know I spend at least 9 minutes daily scrolling on social media. Do you? How about logging food into MyFitnessPal, stressing out over what you're going to eat, or feeling guilty about your food decisions? How much time do you spend doing these things? And how much time might you be able to save in the future if you take the tools in this course and use them to break free from those dieting habits?
Plus, if life gets super busy and you really don't have 9 minutes/day or an hour/week to spare, your access to the course never expires. Once you enroll, it's yours for a lifetime!
I'm beyond this point in my IE journey. I already know all of this stuff!
I'm so excited to hear you're moving forward along your journey! And, at the same time, I'm  guessing you wouldn't be here reading about this course if you felt fully ready to continue tackling this work on your own.
While you may have already addressed some of the topics we'll cover together in this course on your own, I'm confident that there are tools, strategies, and conversations in this course that you haven't yet heard. And maybe hearing familiar topics presented in new and different ways will be the thing that makes parts of this work "click" for you!
I'm new to Intuitive Eating. Will this course be a good first step for me?
Absolutely! In fact, I designed this course with you in mind. This course will help you
answer questions like…
● What is Intuitive Eating?
● How is Intuitive Eating different from all of the other diets I've tried in the past?
● Why have my past dieting efforts failed?
● Am I ready to break up with dieting?
● Where do I start with Intuitive Eating?
● How do I break up with my dieting tools? (i.e. the scale, food trackers, etc)
● How can I begin to reconnect with my innate hunger and fullness signals?
● How can I work to honor my health without being on a diet?
● …and so much more!
How is this different from 1:1 coaching?
Unlike 1:1 coaching, this course does not offer, nor is it a substitute for, individualized support and guidance. This is a foundations course best suited for chronic dieters who are ready to take the first steps in breaking free from a negative, unhealthy relationship with food. Here, you'll learn the basics of Intuitive Eating–what it is, how it's different from your past dieting efforts, and how you can begin using this framework to reconnect with your body and establish long-lasting changes in your relationship with food and self.
1:1 coaching is best suited for those who have already taken this course and/or have explored the basics of IE on their own and are now ready to commit to taking a deep dive into the many nuances of IE. 1:1 coaching is where we explore your personal relationship with food and the principles of IE on an individualized level, which allows us to create a customized roadmap for your healing process. It is a high-level program that offers personalized goals, guidance, and either weekly or bi-weekly 1:1 sessions with Claire, with unlimited support in between via our HIPAA compliant app.
If you'd like to learn more about 1:1 coaching, click here.
Will this course help me lose weight?
This is not a weight loss focused course. Instead, it's a course aimed at helping you take the first steps towards healing from the negative physical, mental, and emotional impacts of chronic dieting and disordered eating. There is no way to predict exactly what will happen to your weight as a result of healing your relationship with food–some people stay the same weight, some lose weight, and some gain weight. This course will help you shift your attention to a variety of health-promoting behaviors that make sense for your life and can help support your mental and physical health in the long run.
I have an active eating disorder. Will this course be a good fit for me?
This course is not appropriate for those struggling with an active eating disorder. If this is you, please reach out to an eating disorder trained professional so that you can get the appropriate individualized support and guidance that you need. Once you're stable in your recovery journey, you may find this course helpful as you continue making peace with food.
If you don't know where or how to find help, start here: https://www.nationaleatingdisorders.org/help-support
How can I expect to feel throughout this course?
Expect to feel excited, nervous, challenged, and hopeful…all at the same time! The journey towards reclaiming your life from diet culture looks different for everyone, so it's important to enter into this course with an open mind. Be ready to learn, practice patience, and show yourself some compassion.
Is there a timeline for how quickly I must complete this course?
Nope! This is a self-paced course, meaning you get to proceed through the modules at any pace that feels good for you. Your access to the course never expires. My recommendation is to take at least a few days between each module to digest what you've learned and work through the written activity that follows each audio recording. This way, you can spend a few days implementing some small, realistic goals before you move on to the next module!
Can I listen to the coaching lessons multiple times?
Yep! Once in the course, you can listen to the audio recordings as many times as you'd like.
What kind of support can I expect from this course?
You can expect lots of tools and actionable strategies from each audio recording. The written activities following each module will guide you in setting realistic goals and intentions after each module. Beyond course content, you'll also gain lifetime access to our private Facebook community exclusively for course participants. Here, you can ask questions, share your thoughts, and receive group support + feedback from myself and others navigating this journey!
Please note that individualized support does not come as a part of this course. I can only offer individualized advice to those I work with 1:1. If you're interested in receiving personalized guidance and a higher level of support on this journey, please click here to learn more about my 1:1 offerings.
What "results" can I expect from this course?
Upon completion of this course, you can expect to have a greater understanding of what Intuitive Eating is and how it's far different from dieting. You'll also have the tools and strategies to break up with your dieting tools (i.e. the scale, food tracking apps, etc), begin confidently reconnecting to your hunger, fullness, and satisfaction cues, start challenging your food rules, and more!
If I purchase the course and change my mind, can I get a refund?
No, your investment in the course is non-refundable. Once you purchase the course, it's yours for a lifetime!