Pineapple, Black Bean & Corn Salsa
Dearest Salsa sapiens, 
You know, like Homo sapiens–but ones who really love salsa. It's like how your parents always used to tell you if you kept eating too much of one food, you might actually become it? Well, that may actually be the case when it comes to this salsa–so good you might eat all of it at once and evolve into a rare, exotic Salsa sapien. Sounds fun, right? I think so.
The idea for this recipe came to me in a flash. Alie and I were planning to attend a Cinco de Derby (or Kentucky de Mayo, if you'd rather) gathering the next day, so I began to ponder the vast number of food combinations I could assemble to honor both occasions simultaneously.
Soon thereafter, I waltzed (not so figuratively…sometimes I get so excited to food shop that my steps become dance-like in nature..) into the grocery store and saw a display of sweet corn–the first display I'd seen all year, in fact. I immediately thought to myself, "Salsa…that could work. Err'body loves a good chunky dip!".
Just like that–the remaining ingredients cascaded into the cart and before I knew it, this recipe was born. Very simple (as long as you don't mind a little bit of chopping), 100% delicious. Just like the Lemon Rosemary Ricotta Hummus recipe from last week, this salsa is also perfect for dippin' and dunkin' veggies and chips…or just spoonin' straight to the face.
Nutritional Highlights 
Black Beans 
Black beans are legumes, a type of starchy vegetable that grow in pods. As discussed in last week's hummus recipe, the 2015-2020 Dietary Guidelines for Americans recommends a consumption of at least 1.5 cups of legumes weekly (based on a 2,000 calorie diet) as part of a healthy diet pattern that helps reduce risk for chronic disease.

Black beans (along with their other beany relatives) are naturally low in fat and provide a healthy dose of plant-based protein (approximately 8 grams in a 1/2 cup serving of cooked beans!).

As a plant based food, they also provide a balance of complex carbohydrates and fiber, as well as iron, zinc, magnesium, and folate (amongst many other vitamins and minerals).

Regular consumption of legumes (along with fruits, vegetables, whole grains, nuts, and seeds!) is linked to significantly lower risks of heart disease, high blood pressure, stroke, and type 2 diabetes1.

Although substantive research exists regarding the health benefits of legumes, only ~8% of the U.S. adult population reports eating legumes on any given day.

Looking to separate yourself from that 8%? While this salsa may not fulfill your entire weekly legume recommendation (unless you eat the whole bowl…) it

will

help to get you one step closer. Plus, it's an extra tasty (and sneaky) way to get those beans in!
Pineapple 
Pineapple, along with its other fruity relatives, can be an absolutely delightful way to help reach the recommended 1.5-2 cups of fruit daily.

The amount of fruit you need daily depends on a variety of different factors such as age, sex, and physical activity. If you'd like to view recommendations specific to you, click here. 

Pineapple is rich in potassium, calcium, fiber, and immune-supporting vitamin C.

Vitamin C is a water-soluble vitamin that serves as a powerful antioxidant. As an antioxidant, it helps to protect normal, healthy cells from potential free radical damage.

Vitamin C supports the formation of collagen in bones, blood vessels, and muscle tissue.

Vitamin C also aids in iron absorption from non-heme sources (i.e. the type of iron found in plant foods–like those beans we talked about above!)2.
There are lots of other healthful ingredients in this salsa–but to save this post from becoming a novel, I'll stop here. Rest assured that this dish is the perfect companion for your next summer potluck, addition to Taco Tuesdays, or staple in your weekly fridge stash. In fact, I just used some leftovers as a salad topping and oh MY was it delicious. Bone apple teeth!
Yours chewly,

P.S. In an effort to use the whole pineapple (okay, everything except for its spiky armor) in my food endeavors, I decided to get a little creative. I placed the top in the center of the salsa bowl for a unique, live garnish. When I got down to the core, I sliced it and divvied up the chunks between a few mason jars, threw in lime slices, poured in some water and BAM–3 fun, fruit-infused beverages for my week ahead.
Sources & Additional Readings: 
1. Polak R, Phillips EM, Campbell A. Legumes: Health Benefits and Culinary Approaches to Increase Intake . Advances in pediatrics. https://www.ncbi.nlm.nih.gov/pmc/articles/PMC4608274/#B4. Published October 2015. Accessed May 6, 2018.
2. Hossain F, Akhtar S, Anwar M. Nutritional Value and Medical Benefits of Pineapple . International Journal of Food and Nutrition Sciences . February 2015. http://article.sciencepublishinggroup.com/pdf/10.11648.j.ijnfs.20150401.22.pdf. Accessed May 6, 2018.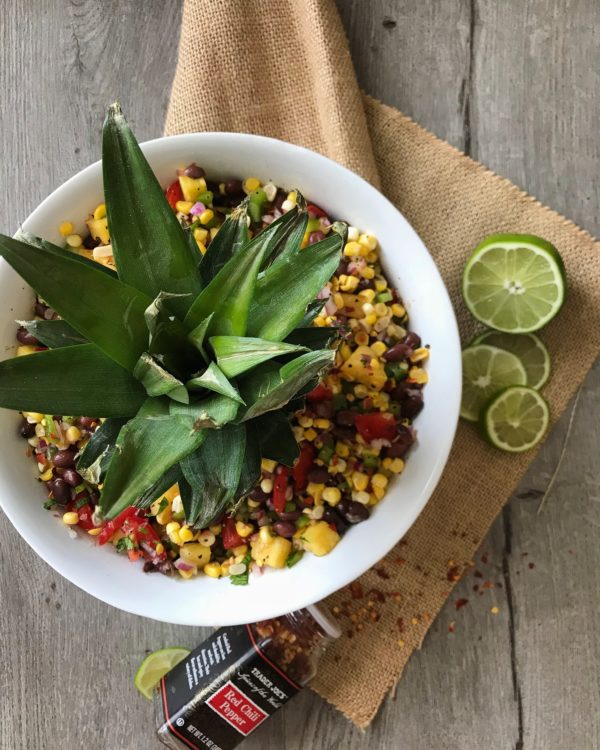 4

ears

Corn

-Cut from the cob

1

15 oz. can

Black beans

-Rinsed, drained

1

cup

Pineapple

-Small chop

1/2

cup

Red onion

-Small chop

1

cup

Green bell pepper

-Small chop

1/2

cup

Cherry tomatoes

-Quartered

1

oz.

Cilantro

-Stemmed, chopped

2

ea.

Limes

-Juiced

2

Tbsp.

Honey

3

Tbsp.

Salad oil of choice*

To taste

Salt & Pepper

To taste

Crushed red pepper

-Optional, for some added spice
4

ears

Corn

-Cut from the cob

1

15 oz. can

Black beans

-Rinsed, drained

1

cup

Pineapple

-Small chop

1/2

cup

Red onion

-Small chop

1

cup

Green bell pepper

-Small chop

1/2

cup

Cherry tomatoes

-Quartered

1

oz.

Cilantro

-Stemmed, chopped

2

ea.

Limes

-Juiced

2

Tbsp.

Honey

3

Tbsp.

Salad oil of choice*

To taste

Salt & Pepper

To taste

Crushed red pepper

-Optional, for some added spice
Shuck the ears of corn and wrap each one in a damp paper towel. Place all four in the microwave for about 2.5 minutes and remove carefully. Technically, you could leave the corn raw--but I chose to cook it lightly to bring out some sweeter flavors. If you're not a fan of microwave cooking, you could also throw them into a pot of boiling water for a minute or two.

While the corn cools, begin to slice the pineapple. First remove the top and set aside for later decorative use (if desired). Chop a small portion off the base of the pineapple as well to create a flat, stable cutting surface. With long slices, remove the spiky outer skin, rotating the fruit as you slice along. Once the skin is removed, slice the "meat" of the fruit longways until you find the hard, inner core. Chop each pineapple spear into small chunks and add to large mixing bowl.

Open, rise, and drain can of beans. Add to bowl.

Finely chop red onion, bell pepper, tomatoes, and cilantro. Add to bowl and gently fold to mix ingredients. Once the corn has cooled, carefully cut away from the cob and add to bowl.

In a small, separate mixing bowl, combine lime juice and honey. Whisk until incorporated and slightly frothy. Continue to whisk as oil of choice is slowly poured in.

Pour honey-lime dressing over salsa ingredients and fold to incorporate. Add salt, pepper, and crushed red pepper, to taste.

Serve with tortilla chips, dippin' veggies, tacos, or use as a salad topping. The possibilities are truly endless!
*Apologies I can't give a more scientific description of the yield on this one--mostly because serving size of something like this really varies. By my estimate, I would say this yields between 6-7 cups of salsa.
**You may use any salad oil you'd like here. I chose to use olive oil because that's simply what I had on hand. If you're looking for something with a less-bold flavor, opt for something like a canola oil or a vegetable oil blend.
---
---